Should NYC Landlords Be Required to Pay for Your Internet?
4 min read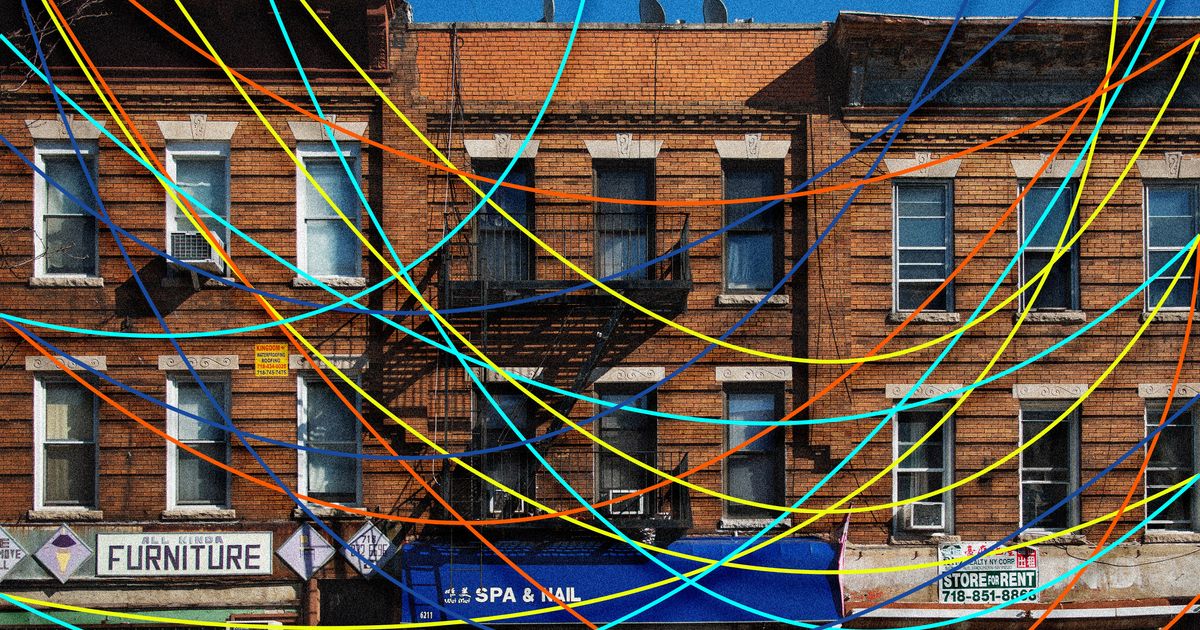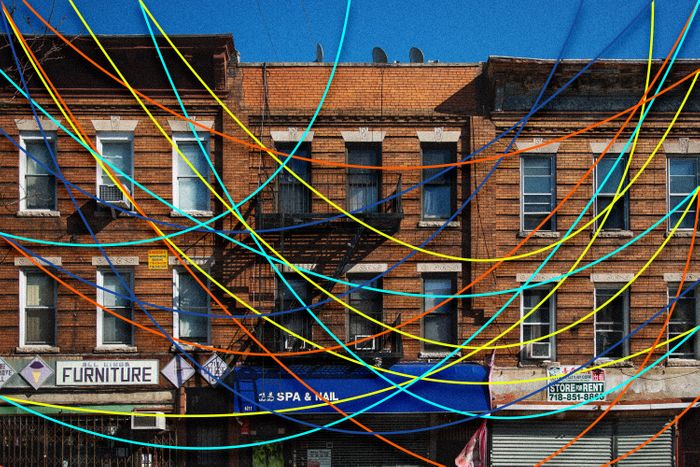 Photo-Illustration: Curbed; Photo: Getty
In Ben Kallos's view, internet access is as much a basic necessity as heat and hot water. And he has a point, after a year in which a lot of us began our remote-work lives. More than 500,000 households in New York City lack internet access — and that's why Kallos, the Upper East Side City Councilmember, has put forth a proposal requiring that all new residential buildings, as well as those undergoing renovations, be wired for broadband and that owners of all existing buildings with ten or more units provide it to their tenants gratis. After a three-year grace period to get everything up and running, that would give virtually all New Yorkers internet access — in theory, at least. It's a laudable goal, one that Kallos calls "the right thing to do."
But shouldn't universal broadband be a public amenity to begin with? (In many communities across the U.S., it already is.) What we'd be doing here, instead, is asking private-property owners to pay private companies in what amounts to a large giveaway to Spectrum, Verizon, and the other telecom giants who dominate the business. Kallos, of course, adopts the position — not unreasonable — that this is the way to get things done right now, rather than waiting for the much bigger, citywide shift laid out in the city's Internet Master Plan. That is a yearslong, multibillion-dollar undertaking (and it has taken us since 2014 just to get to this point), and it will not, in the end, create a true citywide public-internet utility; instead, it will rely on a mix of public and private partnerships. "This is more immediate," Kallos says, "and even in the jurisdictions that offer municipal broadband, it's adding competition to the market, but it doesn't make it free," he told Curbed. "You have a lot of New Yorkers who, when the rent is done — the MetroCard, the groceries, the prescriptions are done — there's just nothing left to pay for internet."
Certainly true, but you have to suspect that landlords, or at least those owning unregulated apartments, will simply pass those costs right through in the form of rent increases. "Who is really going to end up paying for it? Is it the consumers, again?" asks Jane Coffin, a senior vice president at Internet Society, a nonprofit that advocates for greater access. The bill would prohibit landlords from spiking rents, but Kallos concedes that it doesn't set fines or create an enforcement mechanism; that would fall to the city's housing department, which is already overwhelmed. "I would start with public investment stepping up first," Coffin says, noting that landlords can lawyer up against any new mandate. "You don't want to run into a five-year battle in court with these cats."
"Ultimately those free-market apartments will see rent increases to cover the costs. It's human nature — it's not greed. You have to cover the costs somewhere," said Jay Martin, the executive director of the Community Housing Improvement Program, which represents operators of more than 400,000 apartments in the city. Martin's greatest concern, he says, is for owners of rent-stabilized apartments, who would be on the hook to retrofit decades-old buildings with broadband and unable to recoup those costs through rent because increases for those units are set annually by the Rent Guidelines Board. Kallos's bill, though, would set up city-funded grants to help landlords who can show that installing the infrastructure out of pocket would be a financial strain.
All that said, internet advocates aren't ready to dismiss this bill. Most important, for Coffin, is ensuring that landlords aren't pushed into a no-other-options situation for good. "There's a balance here. You want the connectivity in the building, but are you locking in a company that landlords may not be able to afford later on? You don't want to eliminate choice," said Coffin. Incentives, such as a tax break, could make property owners more amenable to footing the bill for tenants' internet. As long as there's room for competition from smaller networks, suggests Brian Hall, the founder of NYC Mesh, a volunteer-run collective that connects tenants and buildings to the internet using fiber cables and wireless routers, the legislation is "the logical thing to do." Hall explains that when Verizon and Spectrum install cables in a building, they can effectively keep any other entity out and maintain a monopoly; requiring the owners to do it during construction and renovations would remove that obstacle and makes it easier for NYC Mesh and other small community networks to offer a cheap alternative to the telecom giants. "Ideally, the internet would be regarded just as water. You don't think about where your water comes from — it's just there in your apartment," said Hall. "This could make it a lot cheaper for the residents, and a lot simpler, and move us closer to that."
https://www.curbed.com/2021/10/should-nyc-landlords-be-required-to-pay-for-your-internet.html