Opinion: An internet that women want? It looks like this
9 min read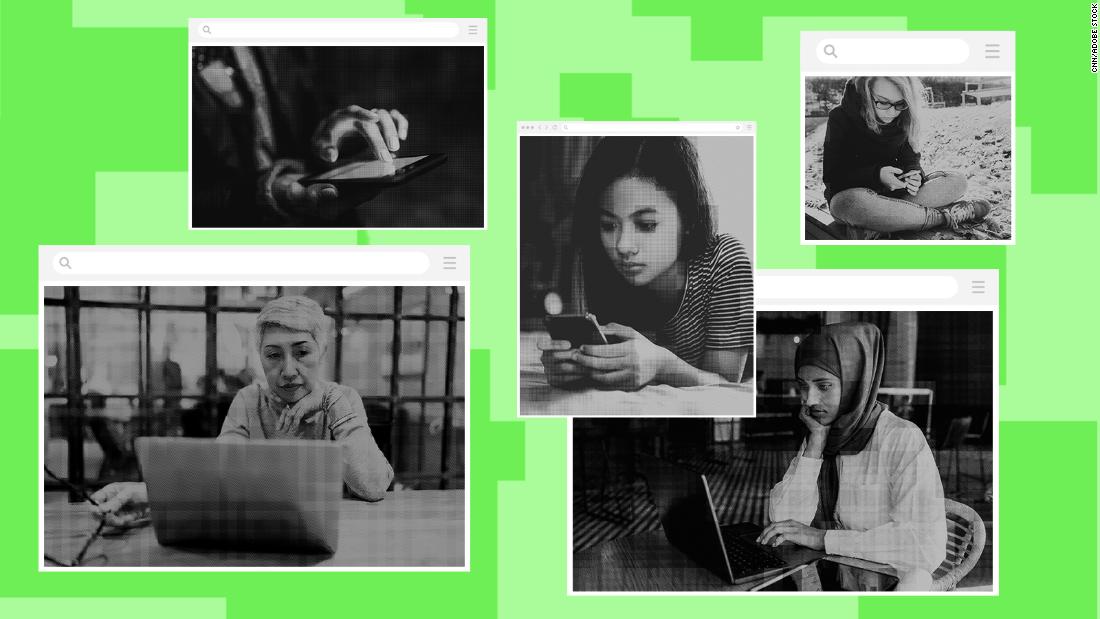 We asked six digital experts and activists from around the world to reflect on this ongoing problem and suggest ways we can create an internet that works better for women: An internet that women want.
The views expressed in this commentary are their own.
'An internet where there is no fear to express an opinion or publish photos of our bodies'
Opinion by Angie Contreras
So, how do we build an internet for young girls, women and trans women?
First, we need to listen to them, and create an internet where their voices and needs are reflected. Second, we need an internet for them to enjoy and have fun, but also study anything they want. And third, we need a world where companies, internet providers and governments take a position against digital violence and carry out concrete actions for prevention, accompaniment and to reduce impunity.
An internet women want is one where there is no fear to comment, to express an opinion, or publish photos of our bodies — and where there are no limits simply because you are a woman on the internet.
'A feminist internet would help women and gender-queer folk find strength online, as they do together offline'
Opinion by Damini Satija
Our online lives are increasingly governed by algorithms. These technologies not only shape our lives, but they replicate the darkest side of a patriarchal world online by saturating the internet with the same discrimination and structural inequities that define society today.
A feminist internet would subvert, dismantle and reimagine patriarchal structures, not reproduce them at an accelerated rate. The building blocks for this internet will be technologies that foster the same strength and resistance that women and gender-queer people find with each other in offline communities.
This internet will also recognize that women around the world are not a monolith — and that womanhood too is layered in power imbalances which have historically privileged women of certain races, geographies, abilities, sexual identities and class backgrounds.
This internet will go far beyond definitions of womanhood and gender confined to our bodies, biological sex and physicality. Ultimately, an internet for all women will grow and nurture our spaces of solidarity.
'An internet that women want holds platforms and algorithms to account'
Opinion by Anushka Jain
These Muslim women, including journalists, activists and analysts, were targeted because of their religion, views and professions.
When imagining how to rebuild the internet in a way that is safe and accessible for women, we need to assess the sources of harm that women face online.
In addition to their gender, women inhabit other identities through their religion, profession, race, physical disabilities or sexuality, which further contributes to the harassment they face online.
'The internet is a crucial space for women to build international solidarity'
Opinion by Azadeh Akbari
With an 18-year-old's enthusiasm, I registered my first email address in 2001 at an internet cafe in Tehran. What was then too expensive for a working-class family to afford has become essential to how women connect, build businesses, resist, define their identities, and discuss some of the most taboo issues in Iranian society.
Authoritarian regimes have long tried to break such networks through censorship, blocking, internet shutdowns and nationalisation of internet infrastructure. Women, above anything, need secure access to the free and global internet; otherwise, their voices will get lost in the digital chambers of oppression.
'An internet women want is free from digital colonization'
Opinion by Timnit Gebru
I'd like to have an internet where I can easily communicate in any of the languages that I want to use, whether it is Tigrinya, Amharic, or English, and access information that is relevant to my community without digital colonization.
'An internet women want is (first and foremost) affordable'
Opinion by Nnenna Nwakanma
I strongly believe that building an internet will never be about technology alone. No matter how sophisticated the tool may be, no matter how "futuristic" it may sound, it will still be centered on human needs, human desires and human ambitions.
Therefore, an internet that women want — and that works for women — needs to start by being affordable for women. It also needs to stand up against all forms of online gender-based violence, and ingrained into it must also be complete respect for human rights.
As an African woman, I need my voice to be heard. I need to challenge patriarchy. But I live in the under-served, minimally connected, digitally illiterate and gender-insensitive part of the world. My village in the eastern part of Nigeria is only 20 minutes away by car from the city of Aba. Yet, I have neither electricity nor 4G coverage.
I want to count, to contribute and to influence. I want to retain my identity while being a global digital citizen. I need to be free. But I am not able to do this from my village. I must 'migrate' to the city. Even when I have broken the barriers of electricity, rurality, availability, and digital illiteracy, I then have to grapple with online gender-based violence.
In building an internet that women want, we need to respond to the fundamental needs of women: safety, security, respect of privacy, social justice and equality of opportunities.
In other words, leave no one behind.