The 15 Steam Deck tips and tricks you need to know
8 min read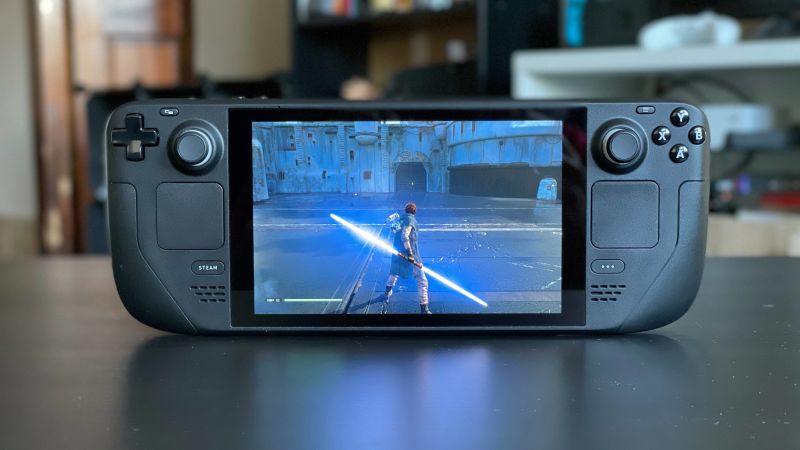 If you ever wanted to play PC games on the go, the Steam Deck is an excellent way to do that. It connects to your Steam account, allowing you to download games to the device. It's easy to set up and use too, working directly out of the box without the need for a ton of tweaks.
However, to get the most out of your Steam Deck, there are a few accessories you can buy, settings you can customize and features to explore. Since the Steam Deck is essentially a mini computer, you can do a lot with it — here are 15 ways to start delving into your handheld's potential.
If you already have a Steam account, all you have to do once you boot up your Steam Deck for the first time is log in, which you can do by entering your info or scanning the QR code through the Steam app on your mobile device. The easiest way to create an account on your Deck is through the app, but you can do it through your browser. Valve also made it easy to connect multiple accounts to your Steam Deck. Just hit the Steam button, go to Power > Change Account, then hit the + icon. This is a great idea if multiple users plan on using the handheld. Plus, all users can share games, so it's a neat way to expand your library.
Buy and format a microSD card

Video games are getting larger all the time, and while spending more when ordering your Steam Deck will get you more storage, you'll still only get up to 512GB for the highest-end $649 model. And the base-level $399 Steam Deck only has 64GB! Regardless of the size, it's going to fill up fast. The easiest way to expand your available storage is with a microSD card — either SD, SDXC or SDHC cards. SanDisk makes excellent cards that start at $10 for 32GB and go up to $128 for 1TB. All you have to do is insert it into the microSD card slot on the bottom of the Steam Deck. Then format it by going to Settings > System > System Settings > Format SD Card.
If you do get extra storage, you'll want to then change where your games are installed by default and stored. Once you've inserted your microSD card, head to Settings > Storage. Here, you'll see how much storage is already being used and which games are installed. You can change the default storage location by selecting either the internal drive or the microSD card at the top and hitting X.
It might be a huge device, but the Steam Deck is meant to be portable. You can play it on your commute or a plane, especially if you have a portable charger (more on this later). The Steam Deck's lackluster battery life is one of its biggest downsides, but you can counteract this with a portable charger or power bank. Look for a USB-C charger with at least a 10,000mAh capacity and you'll get about two full charges for your Steam Deck. One of our favorite portable chargers is the $98 Anker PowerCore+ 26800 PD 45W, which also comes with an extra wall charger for easily juicing the brick back up. But there are plenty of other options that are more affordable like this $36 INIU Portable Charger.
You likely already have a pair of headphones or earbuds lying around, and either will work with your Steam Deck. You can use Bluetooth wireless headphones, which are easy to set up by going into Settings > Bluetooth and selecting your device under Available to Pair. You can also use wired headphones since the Steam Deck has a headphone jack at the bottom. Just be sure to use headphones if you're using your Steam Deck in public. You don't want to be that person bothering everybody with your audio.
Once you've logged in, you can change up the look of your profile for friends and other people on Steam to see. There are a lot of ways to do this through Steam too; you can customize the theme, your avatar, your avatar's frame, the showcase on your profile, badges and more. Hit your profile icon in the top right corner, select View Profile > Edit Profile and explore a bit to see what you can change. You'll earn Steam Points by buying games and completing challenges, which you can then spend on more cosmetics for your profile.
Change your keyboard theme, haptics and language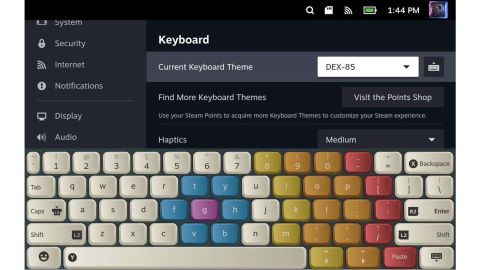 You'll be using a lot of your touch keyboard on the Steam Deck to search for games or if you play around in Desktop Mode (although we'd recommend using a separate keyboard for the latter). But you can change the look and feel of it by going into Settings > Keyboard. You'll find a dropdown to change your keyboard theme at the top. You can choose between any of the preinstalled ones or search for more in the Points shop. You can also adjust the haptics, the keyboard's language, the sensitivity and more.
Change brightness and night mode settings

Adaptive brightness, which adjusts the brightness of your screen based on the lighting where you are, is a handy feature you'll find on most smart devices these days. But you can turn it off if it's not working for you. Tap the Steam button and scroll to Settings > Display. You'll see a toggle at the top to turn adaptive brightness on or off. There are other settings here too you might want to play around with. The one we want to highlight is night mode, which is great if you play games around bedtime and want to limit the amount of blue light. You can turn it on until morning, schedule it to activate at certain times of day and adjust the tint. This is also where you can change your power settings.
Related: 11 essential Nintendo Switch tips and tricks
Check out Steam sales and other events

There are a ton of games on Steam, so how do you know which ones to buy, and how do you do it without emptying your wallet? Steam holds sales multiple times a year, usually around major holidays or at the start of seasons, like summer. They'll be visible on the main store home page or you can check out other Steam deals in the meantime. Steam also supports events like Steam Next Fest, where you can download demos for smaller games to build out your wish list, or based around specific genres like strategy games or visual novels. If you're looking for a way to build out your library or learn about new games, this is the best way to go.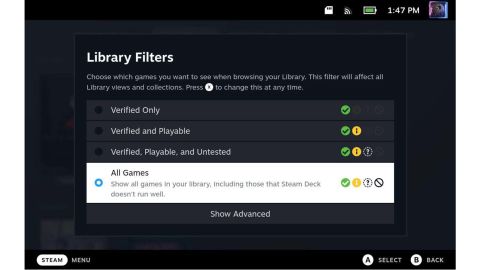 Since a lot of Steam games are made with a mouse and keyboard in mind, they might not work on your Steam Deck. Thankfully, Valve created a program called Great on Deck, which will check if a game will, you know, run great on the Steam Deck. You can see compatible games through a browser at the Great on Deck hub, at ProtonDB or by going to the store on your Steam Deck (you'll default to the Great on Deck tab). You can also see it on specific games already in your library. A green checkmark means it's verified to run well on Steam; a yellow icon says it's playable but might have some issues; a question mark says it's untested; and a gray icon shows it's unsupported. However, the Steam Deck is very customizable, so don't give up hope if a game isn't completely verified. Vice versa, a title that's verified might need some configuring. Speaking of …
While there are default controls for most games (unless you start messing with emulators), there are ways to configure the controller layouts, whether you want to make a game playable on the Steam Deck or just have other preferences. It's also easy to do, thanks to community-supported layouts created by other users, but you can customize them yourself. All you have to do is go to a game's page, hit the controller icon on the right and either View Layout or Edit Layout at the top. Clicking on the template box will show all available layouts for you to try.
Take it from somebody who's been buying games on Steam for over a decade — your library will get unwieldy fast. You can search for games and sort them by date purchased or alphabetically, but it's a lot easier to find what you're looking for with collections. Just select a game in your library, hit the options menu and scroll down to Add to. You can add the game to an existing collection or create a new one. Now when you jump to the collections tab in your library, you'll see nicely sorted games.
The Steam Deck runs on a Linux-based platform, meaning that it's not just a video game handheld but also a full computer. Granted, you shouldn't use it as a computer, but if you download a web browser like Microsoft Edge or Google Chrome, you can expand the capabilities of your Steam Deck for quick searches or if you want to install other programs like Xbox Game Pass.
To install a browser, you'll have to go into Desktop Mode (hit the Steam button, then Power > Switch to Desktop). Then, hit the Discover tab at the bottom (it looks like a shopping bag) and search and install your browser of choice. You can use it on the desktop or add it to your Steam library by launching Steam in Desktop Mode, hitting the Games tab and selecting Add a Non-Steam Game to My Library. It will now appear in your regular Steam Deck library under the Non-Steam tab.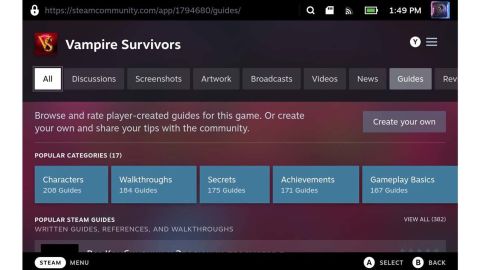 If you're having trouble in a game, you don't have to pick up your phone or go to your computer to search for guides. You can do it directly through the Steam Deck. Just go to the game's Steam page and tab over to Game info. You'll find buttons for the store page, Points shop, discussions and more here, including guides. Hit the guides button and you'll see user-submitted walk-throughs, explanations and guides that can help you with your game. The community hub, which you can also find in this menu, is a great place to see screenshots, fan art and news directly from the developers.
Having trouble running a game on your Steam Deck? You might be able to get around this by playing it through Remote Play. This feature lets you stream games directly from the Steam application on your PC to the Deck. As long as you're logged in with the same account on both devices, it'll be simple to set up. Head to your Settings > Remote Play and move the toggle at the top to enable it. Your computer should show up under Computers & Devices and connect automatically. Go to the uninstalled game you want to stream and hit the arrow next to the Install button. You'll see This Steam Deck and the name of your PC. Select your PC and you'll now see the Install button has changed to Stream. Just hit that and you'll stream directly from your computer, which will now enter Big Picture Mode.