Roku Vs. Firestick | Best Streaming Devices 2022
17 min read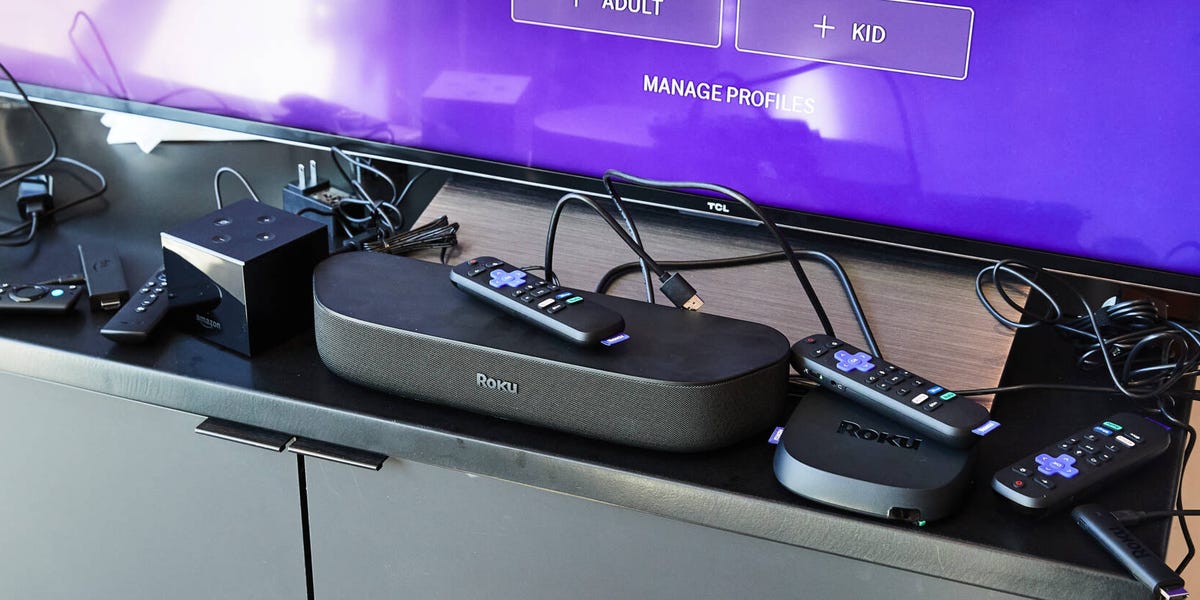 Roku and Amazon Fire TV streaming devices add smarts to any TV or monitor that has an HDMI input. Think of them as mini computers, since they provide a standalone operating system for accessing the internet so that you can download streaming apps or channels like YouTube, play video games like the Jackbox series of party titles, and even browse the web. These days they're primarily for 4K video streaming through subscription services like Netflix or HBO Max, but you can turn your home's largest screen into an advanced media center with tons of functionality if you know how to make the most of them. We tested several devices from Roku and Fire TV, pitting them head to head to see which is best in a range of price and functionality tiers.
See quick info from our testing below, then scroll down for in-depth reviews and testing notes of these models.
The Best Roku and Fire TV Streaming Devices
Budget
Mid-Range
High-End
Roku OS: The Easy Interface
Roku's proprietary operating system is simple to use, which is both a blessing and a curse. If you don't care for a customized content experience and want to launch straight into your media, you can't go wrong here. But as one of the first streaming devices to hit the market nearly a decade ago, and the interface is showing its age: It's too straightforward for its own good. Once you turn on one of these devices, your downloaded apps (which Roku calls channels) show up in rows of three, broken down into large easy-to-see rectangles. You can click right into your apps without being bombarded by full-screen ads, and your favorite services are easily accessible with a press. This menu feels lightweight, there's minimal lag across devices, and apps auto-update in seconds. Unfortunately this isn't a case of "If it ain't broke, don't fix it," since customization is extremely limited and scrolling through more than a dozen channels feels slow even when you hold the scroll button up or down. There's no advanced algorithm for finding spot-on recommendations, and the biggest hassle is that Roku apps are locked to a limited app store.
You can't sideload apps or games like you can with a Fire TV product, so if a developer chooses to remove their app (like YouTube TV had just recently), you can't download it. Without the ability to sideload apps not in the app store, Roku ends up being more limited and at the mercy of its developers who support it with content. Luckily, there's no lack of content at the moment since Roku offers virtually all major services with nearly 2,000 apps available. If you have an iPhone, Roku's ecosystem makes a lot of sense because it supports AirPlay for casting content and your screen directly to the device. Plus, HomeKit allows smart controls and voice input through Siri.
Fire TV: Smarts Have Their Benefits
Amazon's Fire TV OS operates atop an Android interface, so using it feels like an extension of a modern computer or mobile device with more freedom of choice and applications (over 12,000 available). The app store allows for more productivity apps and 3D games, which Roku lacks, in addition to complex operations like downloading files and sideloading applications. Annoyingly, ads are front and center at the top and bottom of the screen as your main menu hides in the center of the screen with tiny app icons that get buried among TV show cards. To Amazon's credit, the tailored algorithm accurately recommends content based on what you watch, which can be helpful. But ultimately it just feels like a ton of ad bloat. Navigating the screen to the app you want to use can occasionally be downright difficult in comparison to Roku's highly visible and organized channel layout and single, unobtrusive sidebar ad.
But look deeper into the chaos and you'll see an OS and integration with other services that really benefits you if you're invested in Amazon's ecosystem. For example, you can control your entire smart home with Alexa and pull up a visual dashboard for things like viewing security cameras, set Amazon-drive saved photos as a screensaver background, and play the latest video games over the Cloud using Amazon Luna. But for those not already invested in Amazon, the biggest draw will be the low price for all the smart features, which bests Roku. There's no AirPlay streaming protocol for iPhone, but you can mirror and stream your Android Smartphone or Windows laptop display using Miracast.
Things To Consider
Size
The body size of a streaming device determines if you can fit it within your current setup. On the lower end of the price spectrum under $50, you can expect thin streaming sticks. They don't require a separate HDMI wire—the connection is built right into a compact body, which is meant to be tucked away behind your TV. This format is lightweight and portable so you can take it on vacations or work trips. Step up to mid-range streaming, and you see boxes like the Roku Ultra below. Dedicated streaming boxes are larger and more powerful than a stick and offer advantages like a USB port for plugging in physical media storage sources as well as ethernet connectivity. At the higher end, streaming devices are discretely integrated into hardware like a smart hub or sound bar, so functionality extends to being a Bluetooth speaker for your room or a smart assistant for controlling your home.
Media Technology
If you want superior surround sound, you'll want to make sure your device supports Dolby Audio, especially the latest surround sound of Atmos. For enhanced color, you'll need HDR 10+, Dolby Vision, and HLG support to see enhanced palettes and brightness levels. You're better off shelling out the few more dollars to ensure you make use of all supported enhancement features your TV provides to see the most optimal cut of content upon every viewing.
How We Test
I've used both brands devices in my daily life for years as they serve different purposes in my household. For testing purposes, I evaluated the six standalone devices below over the course of one week. During this time, I hooked them up to a 65-inch LG C1 television to confirm 4K 60 output as well as an Atmos-capable sound bar to confirm the Dolby sound output quality of each device. I linked up each of my subscription services from Hulu to HBO Max to compare streaming video quality, menu navigation, and overall speed performance while taking notes on any hangups or positives.
---
—ENTRY-LEVEL (UNDER $50)—
At entry-level pricing, both Roku and Amazon scale down their offerings to sticks. This format plugs neatly behind your TV for easy and seamless integration, is easy to travel with, and costs less than a more powerful option. With that comes a drop in speed, but for the most part these streaming sticks pack the full capabilities of their more expensive siblings into a thin body with minimal sacrifices. Neither has a major advantage over the other—their speeds are about the same, but if you care about Dolby Atmos sound, the Fire TV Stick 4K supports it.
Amazon Fire TV Stick 4K
Size: 3.9 x 1.2 x 0.6 in. | Media enhancement technology: Dolby Vision, Dolby Atmos, HDR, HLG, and HDR10+
The Amazon Fire TV Stick 4K offers both Dolby Vision and Atmos, a freshly updated remote with a live TV guide, and a decently speedy processor. Which is shocking since it's often on sale for under $30. This non-Max version loses the Wi-Fi 6 capabilities, lacking the improved stability and speeds of its big brother (below), but that doesn't matter if you don't have a Wi-Fi 6 router to make use of the bump in connection quality. Overall it's quick enough, has the Android interface for plenty of tinkering, and is super affordable. If you want to explore content to find new shows to watch, download interactive apps or games, and view your smart home on your TV, there's no cheaper way to do so.
Right out of the box, I noticed slight delays in apps loading into the menu—as content populates, the show card images may be blank for a second or two. The speed difference in opening any app (and buffering when loading 4K content) is noticeable compared to the stronger hardware below—around 2.5 seconds longer than the other options here. The device doesn't struggle, but if you have a low tolerance for the occasional hiccup, it's better to spend the few dollars more on the Max. The less powerful processor and smaller storage space means you'll have to clear out apps to make room if you choose to download a bunch of software. But even with space, running a 3D game like Asphalt 8 feels choppy and can be downright unplayable if you get sick at lower frame rates.
For video streaming and plenty of usability beyond that, you can't go wrong with this Fire Stick. But if you want a bump in speed, connection stability, and features, the 4K Max is a better option for just a few dollars more.
Roku 4K Streaming Stick
Size: 3.7 x 0.8 x 0.5 in. | Media enhancement technology: Dolby Vision, HDR, HLG, and HDR10+
The Roku 4K competes directly with the Fire TV 4K but in a smaller glossy body that's about half the size. The more expensive (but not by much) 4K Stick Plus adds a headphone jack into the remote, personal shortcut buttons, and Dolby Atmos audio support. Otherwise, it's not too far of a jump from this already excellent streaming stick. Setup is easy: Plug and play behind your TV without fiddling with any wires, and start streaming in seconds.
The thin design and streamlined menu is the biggest draw, as it's less bulky than a FireStick and incredibly simple to use. The controller offers a 3.5 mm port on the remote for private listening with headphones–perfect for late night or early morning movie sessions without disturbing the rest of the household. In my week of testing, I didn't experience a single buffering popup while watching 4K content. However, the Streaming Stick can struggle when retrieving casted iPhone video over Airplay. Roku's Channel offers free Live TV and shows—I found myself enjoying the service's exclusive shows like Ten Weeks over the course of testing. For the price, it's surprising that Atmos support is limited to the more expensive Streaming Stick 4K+.
Apps load up in under 5 seconds, and navigating and controls are simple. Like all Roku devices, the 4K Streaming Stick suffers from slow scrolling, which is a headache once you have over a dozen or so apps. My library of 140+ apps is a slog to get through. Downloads are fast thanks to the extended Wi-Fi, which isn't built directly into the body but cable itself for a stable and smaller format. You just need to be wary of this as you can't replace the wire if you damage it without paying for it.
---
—MID-RANGE ($50-$100)—
Spend a few more dollars, and you'll find more powerful additions both externally and under the hood. Roku's Ultra streaming player takes this round because it's packed with features like input ports and a premium controller. The Fire TV Stick 4K Max is a powerful device thats specs see a massive upgrade from the regular Fire TV Stick 4K. Plus the added Wi-Fi 6 makes it the strongest Wi-Fi connector out of the pool for virtually no buffering.
Roku Ultra
Size: 4.9 x 4.9 x 0.8 in. | Media enhancement technology: Dolby Vision, Dolby Atmos, HDR, HLG, and HDR10+
The Roku Ultra is a compact streaming box that, at $70, steps up the power and avoids the lag of cheaper devices. Unlike the Streaming Stick 4K above, the Ultra has a USB port for local media playback, an ethernet port for uninterrupted networking, and Bluetooth support for audio devices. It houses a powerful and fast quad-core processor, and it supports Dolby Atmos audio, which sounds rich from all directions (when you're listening to or watching supported content). From the Matrix on HBO Max to most of the Marvel movies on Disney Plus, I heard the simulated upfiring from our test sound bar.
Other than the functional advancements, there are a couple of user-friendly perks such as the ability to find your lost remote through a side button on the player itself. As someone who keeps Tile tracking stickers on all of my remotes and keys, I appreciated this while hunting through the office for the remote during testing. Also you get the private listening feature, which Firestick doesn't have, so you can plug a 3.5-mm pair of headphones directly into the remote or use the Roku app to listen wirelessly. If you're hurting for space, the 5-inch, hub-shaped body lays flat and looks good in your entertainment center but can easily mount to a wall. It doesn't get hot like some of the older Roku boxes I've purchased (specifically the 2 XS, which would burn to the touch).
On average, the speed difference with "Fast Channel Launch" was impressive, often jumping into a service in under 3 seconds. But the ethernet connection ensured I never suffered a single buffer throughout testing, which is especially impressive given I was streaming 4K HDR content. If you want a snappier Roku experience, go with this. It's simply a better package and deserving of the Ultra name. If you want a convenient and affordable stick, go with the 4K above. And if your TV speakers aren't the greatest, the Roku Streambar below is a high-end option that combines a Roku streamer with a surprisingly impressive sound bar that doesn't take up much space.
Amazon Firestick 4K Max
Size: 3.9 x 1.2 x 0.5 in. | Media enhancement technology: Wi-Fi 6, Dolby Vision, Dolby Atmos, HDR, HLG, and HDR10+
The Firestick 4K Max upgrades its processor and RAM for more power and snappier navigation. Its streaming performance is even better than the highest-end Fire TV Cube below because it has Wi-Fi 6 connectivity. It supports both Dolby Vision and Atmos, has a 1.8-GHz CPU and 750 MHz of GPU space to play 3D games like a powerhouse, and switches between apps quickly without delay. To put this slew of specs in perspective, the 4K Max is a powerful stick that's a big jump up from the regular 4K Stick and goes neck and neck with the Fire TV Cube below, which offers 16 GB of storage instead of just 8.
Wi-Fi 6 ensures a steady signal and streams load faster, which was the case with a Wi-Fi 6 router. But if you don't have the latest standard it defaults back to older speeds. Outside of this, the added power makes it 40 percent faster for smoother gaming. 3D titles like Asphalt 8 were virtually free of stutter, a stark contrast to the experience I had with the Firestick 4K. Plus, it enables live-view picture in picture, which meant I received a pop-up of my Ring Doorbell camera when someone rang as I watched TV or played games. From a cold start, apps do load in faster versus the regular 4K stick—a major improvement. I could hop into Prime Video or Netflix in under 2 seconds versus 3.5, and Alexa completed commands like turning on lights or answering questions in a single second versus taking a slight processing delay of 3 seconds to kick in.
If you don't care about the computing or 3D gaming aspect, the Roku Ultra is straight to business of streaming within a click. Plus it offers an ethernet connection for minimal buffering of 4K content. While physical media storage is on the way out in favor of the cloud, the Ultra affords space to plug in an SD card or USB drive—hard to top if you have files sitting around on them. And Roku offers the little extras that go a long way, like remote improvements with private listening, customizable shortcuts, and a remote finder. The 4K Max's faster speeds compared to the base 4K stick are huge. But if you don't need the power you'll have a simpler and streaming experience on the Ultra.
---
—FLAGSHIPS (OVER $100)—
Graduate to the top-of-the-class streaming devices, and you'll find that these devices integrate additional hardware functionalities for the added cost. The Fire TV Cube acts as a hands-free universal remote for all media devices (TV, sound bar, and cable box), speaker, and smart hub. Roku's Streambar offers clean audio from a compact sound bar with room-filling sound. Roku dials back with a basic remote and loss of Dolby Vision and Atmos support for a less fulfilling package, giving the most powerful Fire TV an edge.
Amazon Fire TV Cube
Size: 3.4 x 3.4 x 3 in. | Media enhancement technology: Dolby Vision, Dolby Atmos, HDR, HLG, and HDR10+
The Fire TV Cube is a smart hub assistant, Bluetooth speaker, and home streaming device housed in a sleek 3-inch glass box. This little gadget blends into any room and turns your TV into a command center without adding any bulk to your setup. Under the hood sits a Hexacore CPU at 2.2 GHz and 800-MHz GPU, which work together to create the most powerful Fire TV device. This allows for seamless streams, navigation, and gaming. I experienced virtually no app load times and found the snappiness of the hands-free universal control impressive. Even when watching explosive action content or listening to loud music, I was able to instantaneously adjust volume and turn our test TV on or off using my voice without yelling. It also connects to other media center devices like a sound bar and cable box to control them by voice. Even when the TV is off, Alexa checks weather, plays music, and controls your smart home without struggling.
There's 16 GB of storage on board unlike the 8 found on the Sticks above. In my time with the device, I found Alexa to be snappier than the rest of the Fire TV lineup, with requests registering nearly instantly. For example, I said, "Alexa, turn on my lights," and my smart light setup turned on as soon as I finished speaking. Uttering "Alexa, turn off all my lights," resulted in the same control speeds. As a cord-cutter, I don't have access to a cable box to try that control. But using internet channels, I could tell Alexa to tune to Comedy Central or TV Land, and she pulled up the streams quickly. With services, you just say what you want to watch like the other devices.
Overall, I found this to be one of the better devices. The added power makes it extremely fast and with some tinkering you can run some really powerful applications on here—I found myself enjoying backups of my favorite PS1 games, and streaming new titles through Luna worked flawlessly. If you want top-notch graphics processing, memory, and network power, the Fire TV Cube can't be beat.
Roku Streambar
Size: 14 x 4.2 x 2.4 in. | Media enhancement technology: HDR10 and HLG
As TVs shrink each year, so do their speakers. Chances are that your home setup can benefit from a sound bar. The Roku Streambar isn't just a powerful two-channel Bluetooth bar but also a streaming player. Admittedly, I initially ran into a laggy keyboard and finicky remote that unpaired during my first day of testing. But I straightened it out with a full reset—one of the only points of contention I had with this device.
Compact and matte, the bar sits in any space without being a distraction. Aesthetics aside, I didn't expect much sound for its size. I plugged the streamer into the first HDMI port of our test TV, which supports eARC, so that audio and power run through the bar even when tuned to a different input entirely. This little bar proved me wrong with rich sound that comes out in a wide 2.1-channel cone pattern. From the sides, you won't be as enveloped. But sit in the center of the output, and you'll find yourself immersed in sound from a bar just slightly longer than a picture frame.
From the acceleration of a car's engine as it gained speed to the rustles in bushes of a jungle shot, I noticed small audio details better than I had with the default speakers. In our testing room I was able to stand 25 feet back and still hear sound clearly without any distortion at maximum volume. And dialogue was enhanced and amplified without any sort of tin or grating noise. It's not true surround sound, but for the price you get an impressive media player and sound bar. In music, the mids were fantastic and lyric-heavy songs came across clear but at the cost of flatter sounding effects and backing strums. You can pump up the bass with a separate wireless subwoofer, which immensely enriches thumps and adds plenty of texture to sound without distortion. If you're in tight spaces, the kick of low frequencies can be a bit overwhelming. For those that already have a good sound system, I recommend the Roku Ultra to save cash—it's equally as fast without the sound bar and offers more features and Dolby Vision and Atmos support.
This being a higher-end Roku player, it baffles me that the Streambar uses the simplest remote. It lacks even a basic headphone jack for private listening through a 3.5-mm connection. Second, it doesn't support Dolby Atmos or Vision like its lower-priced Ultra. So shows that benefit from it, like Ozarks, look darker and less enhanced than on the lower-priced Ultra model. While I noticed this had fast menu animations, it's clear that fast channel launch on the Ultra isn't a gimmick. Physically, the package is a step forward with some awesome-sounding speakers. But functionality-wise, this is lacking without remote finding, inferior network range, and a separately purchased ethernet adapter. At double the price, you can get the Roku Streambar Pro, which rectifies these complaints.