New Inventory of Utah School Technology Reveals Most-Used Devices and Software Solutions, Unmet Needs — THE Journal
4 min read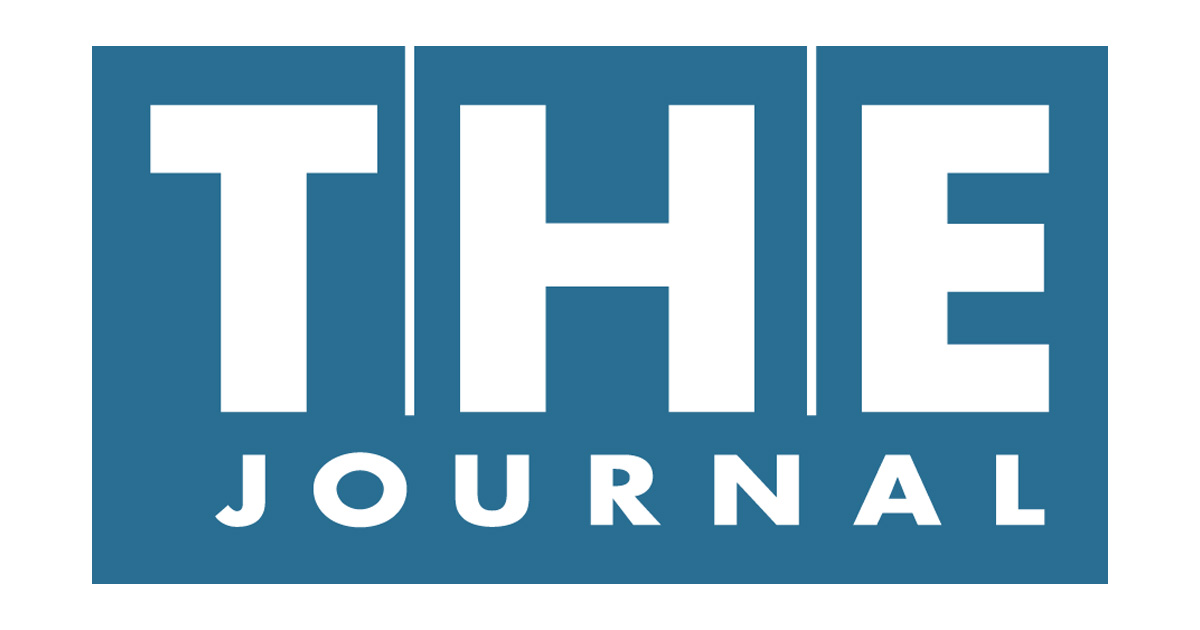 Ed Tech Trends
New Inventory of Utah School Technology Reveals Most-Used Devices and Software Solutions, Unmet Needs
By Kristal Kuykendall
02/23/22
The latest Utah School Technology Inventory report just released by the Utah Education and Telehealth Network shows that the number of devices deployed in schools across the state rose by 31% since the pandemic began, and 65% of all student computing devices in Utah are now Chromebooks, according to UETN.
Completed in collaboration with nonprofit Connected Nation, the report provides insights into the hardware in use in every school across Utah as well as the types of curriculum, LMS, and SIS software being used, unmet classroom tech needs identified by schools, connectivity tech in use and unmet connectivity needs, and device management and security solutions in use statewide.
The 2021 Utah School Technology Inventory survey included approximately 55 questions posed to 153 Utah local education agencies, including school districts and charter schools, representing a total of 1,037 public schools statewide, serving more than 675,500 students this school year.
The 2021 inventory was completed in December and includes 80,000 new data points. The inventory survey was completed by 100% of Utah schools' leadership and district-level technology directors; questions focused on devices, age of hardware and software, teaching resources, and for the first time, at-home access, UETN said in a news release.
"We started working with Connected Nation to track technology in our schools in 2015," said UETN CEO Ray Timothy. "The inventory, which is completed every other year, has consistently helped our schools identify areas that need improvement, as well as best practices. The January 2020 findings were released just months before the onset of the pandemic. Because Utah leaders were already taking this proactive approach to improving technology in the classroom, our schools were better prepared to pivot in response to COVID-19 closures — something that many other schools districts across the country struggled with in 2020."
Following are key findings in areas covered in the inventory:
Device Overview: Students and Teachers
The number of computing devices available to students grew by 31% to more than 888,800, representing about 1.32 devices per student, up from 1.19 in 2019.
Statewide, 2 out of 5 Utah schools (39%) have deployed mobile computing devices on a 1:1 basis so students can take devices home — a dramatic increase from 2019, when only 6% of schools allowed this option.
Google Chromebooks remain the most widely deployed device for students, with 577,690 deployed in 2021, a 37% jump over the 421,238 Chromebooks deployed in 2019. The second-most common type of student device used in 2021 was iOS tablets, with 100,710 deployed, a decrease of about 2,500 since the last survey in 2019.
Teachers and administrators remained more likely to be issued desktop computers than portable computing devices, but the deployment of mobile devices for teachers and administrators predictably exploded during the pandemic: the number of Chromebooks in use by Utah educators grew by more than 400% to 22,052; iOS tablets increased 12% to 23,569; Windows-based laptops jumped 27% to a total of 16,712; and Mac laptops were up 13% to a total of 17,754.
While more than half of schools (56%) say their teachers receive adequate training and professional development to integrate mobile-learning devices into classroom pedagogy, 44% say they do not. This represents only a slight improvement from 2019 when 51% of schools reported adequate professional development and training.
Student Technology Access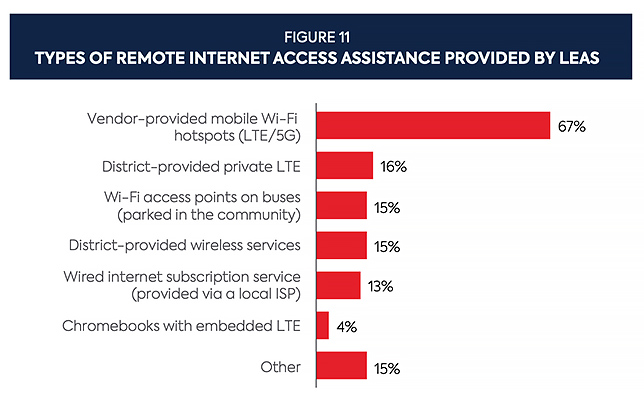 Statewide, nearly 19 out of every 20 schools (94%) say they provide email accounts for their students' use.
More than 2 out of 3 schools (68%) report that at least some of their students do not have adequate internet service at home.
On average, 8% of Utah students do not have adequate access at home, equating to over 55,000 students, and LEAs report that the No. 1 barrier to home adoption is affordability.
Despite the increase in devices being sent home with students, only 27% of Utah's Local Education Agencies (LEAs) provide some form of remote internet access for their students.
The largest share of LEAs that provide remote internet access do so by distributing mobile Wi-Fi hotspots to students in need, offering them either 5G or LTE internet connectivity through a commercial cellular carrier. Other methods include providing service via private LTE connectivity (or other fixed wireless technology), through hotspots installed on buses that are parked throughout the community, or via the purchase of subscriptions from local wireline ISPs.
WiFi Networks and Connectivity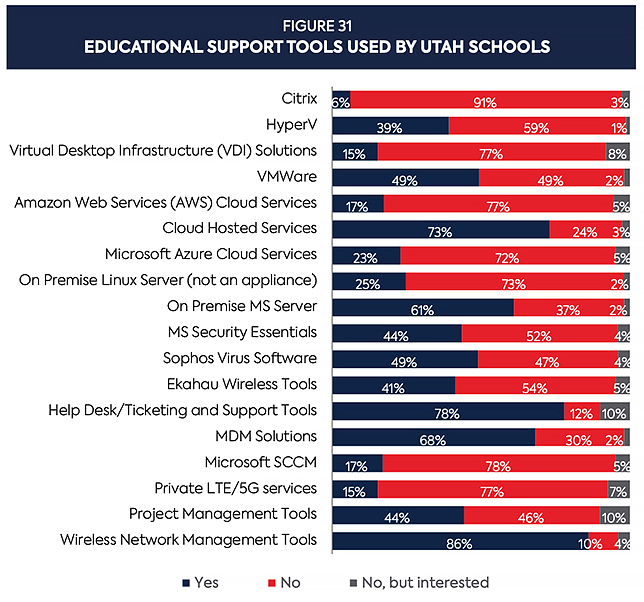 1 in 5 Utah schools (19%) say the wireless networking gear used in school is newer than one year old; an improvement over the 2019 inventory, when 11% indicated the same response.
The Wi-Fi service standards on access points deployed by Utah schools continue to improve. Only 13% of schools report relying on older, slower technology such as 802.11b or other legacy Wi-Fi standards, while more than one-half of schools (56%) say they are using dramatically faster 802.11ax (Wi-Fi 6) technology.
Nearly 3 in 5 schools (59%) share wireless controller environments with other schools. An additional 21% use cloud-based controllers, compared with 15% that use controllers located on site at the school.
Most schools (58%) had their Wi-Fi networks designed by in-house experts. This represents a slight increase from 2019. Overall, only 17% of schools said their Wi-Fi networks were not professionally engineered, down slightly from 2019.
Wired networking gear across Utah's K-12 schools tends to be older, with more than 2 out of 5 schools (44%) reporting that their wired hardware is four years old or older.
The largest share of Utah schools still relies on older Cat 5 or Cat 5e ethernet cable technology. Only 3% report using the modern Cat 6a wiring technology, despite the newer cables providing the capability for faster transmission over longer distances.
Just over 9 out of 10 ethernet switch ports used by Utah schools (91.1%) provide burst speeds of 1 Gigabit per second. The number of schools reporting ports providing speeds of 10 Gbps grew to 5.6%.