Five Tips for Bringing Federal Dollars to Your Community
5 min read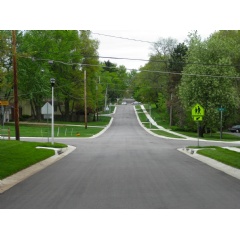 Passionate about Public Works projects, Kati Horner, a Team Director in the firm's Kansas City Civil Group, discusses the impact of the Infrastructure Investment and Jobs Act (IIJA) with APWA.
It has been one year since the passage, approval, and funding of the Infrastructure Investment and Jobs Act (IIJA), also known as the Bipartisan Infrastructure Law (BIL). We've all heard about its unprecedented size and how this is the answer to our decades-long requests to increase funding for our crumbling infrastructure. We've also heard about how this funding was developed to target communities with the most need with key focal points on climate mitigation, resiliency, and historically underserved communities.
Unfortunately, public works is notoriously understaffed, and we often struggle to find the bandwidth to carry out our key responsibilities, much less read, understand, and pursue a brand new $1.2 trillion program! Not to mention the existing challenges of getting dollars from the federal level into the local communities. Because of this, the very communities that these funds are meant to serve are hesitant to even seek this funding.
To help get you over these hurdles, we've identified the top five things you need to know to bring IIJA dollars to your community!
Tip #1: Know the basics
If this is the first time you are even considering IIJA funding—I'm sorry to say you're already late to the game. But the good news is you haven't missed the boat…yet! The infrastructure bill will be programmed through fiscal year 2026, and—in addition to the usual suspects of funding sources—there are dozens of new programs that were created with this bill. There are also several new discretionary programs, including opportunities to apply directly to federal agencies for funding.
The investments are focused on roads, bridges, rail, transit, ports, water, and broadband. If you felt previous funding sources were out of reach or not applicable to your community, it's important to know that there are lots of new options included in IIJA. Equally important is the federal government's focus on dispersing funds to disadvantaged communities and helping them along the way. Technical assistance will be provided to communities to navigate the process. In some cases, there are funding sources for project administration and project management.
Tip #2: Take small bites
This bill funnels $1.2 trillion (with a "T"!) into infrastructure and it can seem like a different federal agency is administering each separate funding source. Meaning there are fact sheets galore and getting the information you actually need can be overwhelming. The trick? Take small bites. Spend a little time each week checking in with clearing house-type resources that provide notices on upcoming funding opportunities and programming guidelines and guidance.
If you don't know where to start, the APWA IIJA Resource page is your one-stop shop to get links to the federal IIJA pages and information. You can use these resources to identify programming applicable to you and to sign up for alerts related to your specific infrastructure needs and goals. The page also connects you to information about webinars hosted by federal agencies. Webinars and other programming are also made available by APWA and other national associations. To get kicked off, be sure to watch the IIJA Webinar: "The Bipartisan Infrastructure Law – What PW Pros Should Know." The APWA Government Affairs team hosted this webinar in March, and a recording is available through the APWA Resource Center Home, simply type "IIJA" in the search tab.
Tip #3: Use your connections
There are several groups and resources who are ready to help! Of course, APWA is a great resource but there are many more available to you, too. Start with your local and regional connections that can lead to opportunities to partner on infrastructure projects that make sense for your community and can increase opportunity to receive funding. In many cases your DOT and/or MPO will be administering programs directly and will be great resources as you navigate the IIJA waters. They can also connect you with the appropriate resources for the funding you seek—including federal funding status and required procedures.
Next, there are several programs that will be administered from the federal level directly to the local level. Utilize your regional and state contacts with federal agencies to make sure you are getting the information you need. Don't know them? Reach out! IIJA is full of metrics, quotas and requirements, and administrators are motivated to find ways to get this funding into the communities that need it most—in some cases, all you need to do is ask. Also, your federal legislators—including your U.S. Representatives and Senators— want (and need!) to know your IIJA experience, benefits, and challenges. There are new earmark opportunities that can be directed your way—so find out today the process for your community's congressional members. If you need assistance with making those federal-level connections, let the APWA Government Affairs team help!
Finally, don't forget to connect with your peers. The public works community is great at sharing information and partnering across boundaries. Learn from your peers who are learning and experiencing the same processes and procedures you are navigating. Don't be afraid to contact other nearby agencies, hold lunch-and-learns at the chapter level, or reach out to local or national committees such as Small Cities/Rural Communities, Government Affairs, or Technical Committees that apply to funding sources you are seeking.
Tip #4: Prioritize
You might not be surprised to find out that the guidebook for IIJA is longer than the legislation itself—and even the best fact sheets and resource pages can be exhaustive (and exhausting!). The best way to identify the right funding for your community (and to make the most of your time) is to prioritize the funding you plan to seek. Keeping your community's needs, statistics, demographics, and other pertinent information at the forefront of your mind will help you determine which funding programs apply to you. Are you rural? Is your community historically disadvantaged or is it geographically divided? Do you have or anticipate climate challenges? There's funding specifically for each of these categories—and so much more.
If you have one, utilize your asset management plan, or any life-cycle analyses you have available, and identify where your major investments are needed. If you don't have one, maybe this is your sign that it's time to develop one—or utilize what information you have to understand where investment is needed. Knowing what you own, its life cycle, and its worth to the community will help you identify what needs to be retrofitted, improved, or rebuilt.
Tip #5: Take the leap!
Now that you've got the tools you need, what are you waiting for?? If you have more questions, contact the APWA Government Affairs team any time. If you're ready to get started, use this QR code to the APWA IIJA Resource Page and get started on bringing this historic funding to your community—NOW!!
Full article was originally published in the December 2022 issue of APWA.
This news content was configured by WebWire editorial staff. Linking is permitted.
News Release Distribution and Press Release Distribution Services Provided by WebWire.